So this week I've been away/ keeping my grandma company. I know, don't you wish I made up some other reason as to where I've been? Maybe like, skydiving camp. Ok so I was so sick and tired of skydiving all day so I went out to lunch with Brooke and her mom and I finally bought my shoes for the wedding.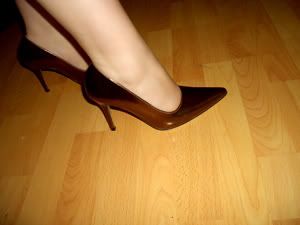 Apparently, I'm selectively indecisive.. and that has caused me to take 4 months to find a pair of fucking shoes that were the right colour. What is more ridiculous than that? Buying a pair of shoes that are the right colour that you have little to no chance of being able to walk normally in. I feel like an 8 year old in her mom's shoes. What? I'm not a hooker, ok, I need practise!
My mom isn't a hooker. I just realized what I was implying there....
So anyhow, wish me luck on that. I have until November 11th to be a "street walker" pro. By the way, someone needs to dare me to make
a toast like this
at the wedding. Hahaha. To pure terror!!!!