Last night Andrea came over, we got some Thai food and went to see Borat. Holy fucking shit. He went so far in that movie that he actually ass raped "too far" and burned his house and his mother. They were all in flames, ok? Some of it was funny but most of it (and I'm talking 85%) was too extreme to even laugh at because it hasn't even registered yet. Then there's that 5% of the movie (aka the nude fight scene) that offended me visually more than if they literally taped a live execution and took a nice long piss all over the corpse. Anyone who's seen the movie can back me up on this.
Anyways, I had so much fun hanging out with Andrea. I almost pissed myself when the Gears of War ad came on. Mad World is apparently a new inside joke, ever since some nerd on xbox live started singing it over his headset (waiting to play the actual game) and then Andrea confessed it's on her myspace page. lol. We also almost drove off the road like twice laughing when we were doing skits from the best of Will Ferrell and then when we see a big group of Santa's running around on the street. Literally I think there were about 25-30 Santa's. This was the best picture I could get from the car.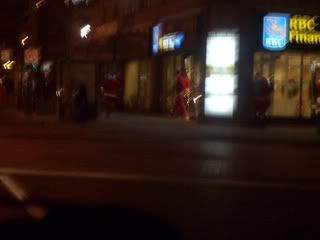 I'm pretty sure they were robbing that bank because there's no other explanation I can think of. Literally none.
Tonight I'm finishing off the last of the Tastykakes that Kevin sent me. I am officially sad that they do not sell these here because they're all sorts of delicious.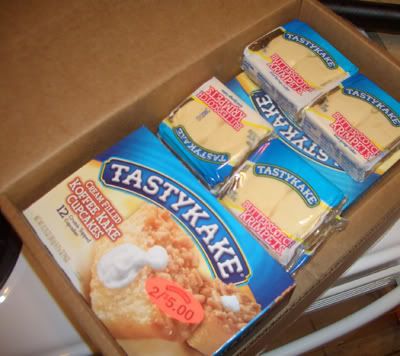 "that's not her mom, that's her social worker!"


- Andrea, about 2 people in a car





"I've got a fever and the only cure is more balls"


- me